The most popular and widely used social networking site is Facebook. It is the place where out of 10 people, every 8 people is active. We connect with the world via our FB account. Facebook has given us so much amazing features that it is difficult to imagine our life without social networking site.It is well known that nowadays fraud and hacking is common on Facebook . But have you ever wondered how our Facebook account is hacked? What all precautions or measures we should take in order to protect our Fb account? Don't worry even if you are not aware. We are here to help you know about the Facebook Security Setting features that can protect your account. We will walk you through interesting features of Facebook setting available for security.
Facebook Security Setting: Protect your fb account
Follow these steps to prevent your Facebook account from Hackers with in-built security features
First of all, Login to your account.
Then Go to the top right corner of the screen and select "Settings" from the drop-down menu.
Ans then Select Security and login tab.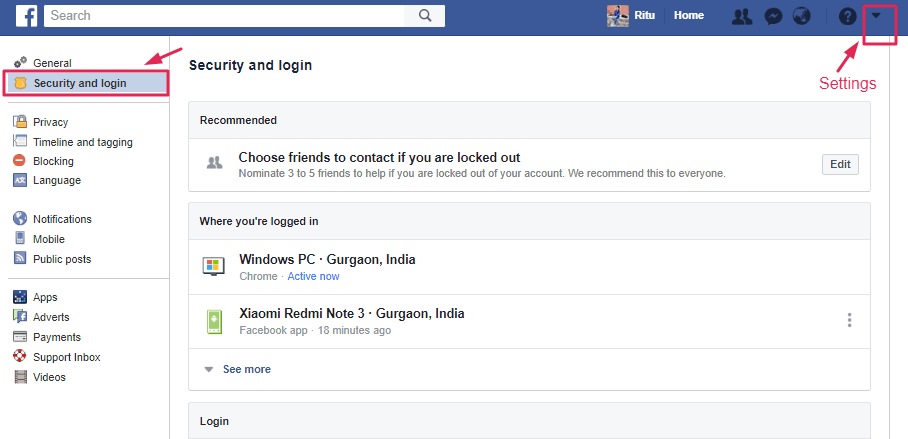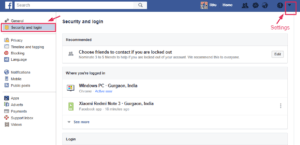 Note: In older version, this tab is named as Security instead of Security and Login.
Activate Login Alerts
It allows you to receive notification via SMS or Email whenever someone tries to access your account from a new computer or mobile device. This is extremely useful when someone else gets an access to your account without your knowledge.
Turn on Login Approvals or Two factor authentication
In older versions of Facebook, this feature is named as Login approvals and in newer version it is named as Two factor authentication. It is one of the most efficient way to secure your account, so Please activate it now.
This feature works as a second layer of protection, besides your password. There are plenty of options available which you can use as a second layer. I'm using "Text message" as second layer protection. Once you turn on this feature then whenever you try to access the Facebook from new PC or new mobile, you have to cross two layers authentication. Your user name and password is the first security layer. The security code which you will get after entering correct username and password, would be the second security layer. The second pass code will be a unique, time sensitive and much harder to get crack.
Beware of phishing attack
One of the most commonly used method to hack Facebook account is Phishing. Let me tell you how it works? Hacker sends a link through e-mail or messenger to you. He could send this link by saying that there is kid's competition. Like and share her kid's picture. When you click on the link then you will get navigated to Facebook login-page where system forces you to first enter your login credentials in order to like the picture of baby. The real trap is here. The login page that is forcing you to enter login credentials might be a phishing page. The phishing page looks similar to original page. The only and major difference is in the URL.
Fake URL could be: fcaebook.com, faceebook.com etc. We never check out the URL that's why we are easily trapped in phishing by the hacker.
Now when victim enters his username, password and hit login button then victim's username and password would be sent to hacker who created it and after that victim would get redirected to original Facebook page. Just watch out with the URL while accessing the link in order to prevent your Facebook Account from Hackers.
Facebook Security Setting: Protect your fb account
Create strong password so that nobody with malicious intentions will be able to guess it.
Don't use the same password (that you are using for Facebook) for other online accounts such as email, blog, hosting etc.
Confirm your mobile number because it strengthens the security. Mobile number can also help in recovering your forget-password by sending you OTP.
Avoid the use of Facebook on public-WiFi.

Never select 'Keep Me Logged In' option while logging to Facebook.

Never forget to log out from your Facebook account especially when you are not using your own computer/device. If you forget to log out, you can log out remotely by logging into Facebook, opening your security settings, and clicking on "See Where You're Logged In." If you're still logged into a computer/device that isn't yours, click on "End Activity," and this will help you to get log out from other device.
By performing the above actions you can easily prevent your Facebook Account from Hackers. Enjoy secure FB posting, likes, & comments. That's all about Facebook Security Setting: Protect your fb account.
I hope you like this article. Don't forget to share it with your friends. For more updates, stay connected with www.englishneed.com
Comments
comments